La Ligne Numéro 1
"La Ligne vers le Cap Blanc"
Tunis - Mateur - Bizerte

Longueur / Länge / Length: 98 km Ecartement / Spurweite / Gauge: 1435 mm
Ouvert au trafic: Tunis - Jedeïda 25 km 1885; Jedeïda - Bizerte 73 km 1894
Eröffnet: Tunis - Jedeïda 25 km 1885; Jedeïda - Bizerte 73 km 1894
Opened to traffic: Tunis - Jedeïda 25 km 1885; Jedeïda - Bizerte 73 km 1894
Gares de Correspondance: Tunis Ville pour toutes les directions; Jedeïda vers Béjà et Ghardimaou; Mateur vers Béjà et Tamera (antennes Marchandises seulement); Tinja vers Menzel Bourguiba (Marchandises seulement)
Anschlussbahnhöfe: Tunis Ville in alle Richtungen; Jedeïda nach Béjà und Ghardimaou; Mateur nach Béjà und Tamera (nur Güterverkehr); Tinja nach Menzel Bourguiba (nur Güterverkehr)
Junctions: Tunis Ville for all directions; Jedeïda for Béjà and Ghardimaou; Mateur for Béjà and Tamera (freight branches only); Tinja for Menzel Bourguiba (freight only)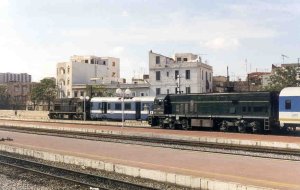 (photo Thomas Grell 97)
Gare de Tunis Ville, au fond le train omnibus parte pour Bizerte
Bahnhof Tunis Ville, im Hintergrund verlässt der Nahverkehrszug nach Bizerte den Bahnhof
Tunis Ville station, in the background the local train to Bizerte is leaving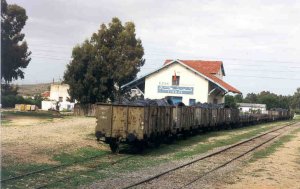 (photo Thomas Grell 97)
Gare de Tinja, Bifurcation pour Menzel Bourguiba, Train de Marchandises au quai
Bahnhof Tinja, Abzweigung nach Menzel Bourguiba, Güterzug am Bahnsteig
Tinja station, Junction for the Menzel Bourguiba branch, a freight train waits along the platform


(photo Thomas Grell 97)
Bizerte: Locomotive à vapeur du type Austerity WD, 0-6-0ST construite par Vulcan Foundry Angleterre et arrivée en Tunisie en 1946, une deuxième machine de ce type se trouve au ateliers Sidi Fath Allah à Tunis pour un future musée ferroviaire
Bizerte: Dampflokomotive des Typs Austerity WD, Dreikuppler, Satteltank, erbaut von Vulcan Foundry England und 1946 nach Tunesien gebracht. Eine weitere baugleiche Maschine befindet sich in den Hauptwerkstätten von Sidi Fath Allah in Tunis und wird für ein zukünftiges Eisenbahnmuseum aufgehoben.
Bizerte: Steam locomotives of the WD Austerity type, 0-6-0ST, built by Vulcan Foundry, England and delivered to Tunisia in 1946. An identical locomotive is stored at the Sidi Fath Allah workshops at Tunis for later display in a to-be-built railway musuem.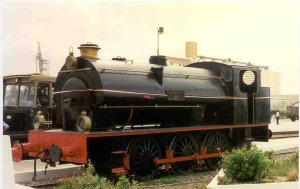 (photo Thomas Grell 97)
Bizerte: La même loco vue de l'autre côté, en arrière plan draisine de maintenance de la voie, construite par Donelli
Bizerte: Die selbe Lokomotive, dahinter eine Dieseldraisine für den Streckenunterhalt, gebaut durch Donelli
Bizerte: The same locomotive, behind a diesel-mechanical maintenance of way vehicle, built by Donelli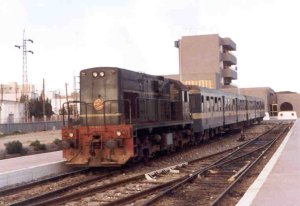 (Photo sr84)
Bizerte, la nouvelle gare avec train Onmibus pour Tunis, composé de voitures MAN de 1965
Bizerte, der neue Bahnhof mit Nahverkehrszug nach Tunis, gebildet aus MAN Wagen von 1965
Bizerte, the new station with local train to Tunis, formed by MAN built coaches of 1965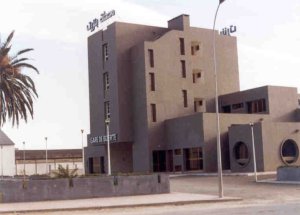 (Photo sr84)
Bizerte, la gare vue à partir de la rue qui mêne à la ville
Bizerte, der Bahnhof von der Strasse zur Stadt aus gesehen
Bizerte, Railway station as seen from ther main road to the city

La Ligne
La ligne suit pour les premiers 25 km celle vers Ghardimaou. A Jedeïda la ligne vers Bizerte part en direction nord et elle sert les gares de Chaouat, Sidi Othman et Aïn Ghelal et entre à la gare de Mateur. Mateur est un noeud ferroviaire important dans le nord de la Tuinisie, avec des branches vers Tamera et Tabarka et une autre vers Béjà. Ces branches sont actuellement que desservies par des trains marchandises, du côte de Sejnane et Tamera pour le transport de minerais de fer. Peut après Mateur la ligne passe au long du Lac d'Ichkeul, le plus grand lac à eau douce de Tunisie, le lac est aussi déclaré Parc National et il est habité par de nombreuses sortes d'oiseaux. Entre le Lac d'Ichkeul et la baie de Bizerte la gare de Tinja est située, de la quelle une branche grefée vers les deux côtés, par vers Menzel Bourguiba. Aujourd'hui il n'y a que du trafic marchandises sur cette antenne, mais dans les années 1983 à 1985 la SNCFT a éxploité à titre d'essais un trafic banlieue avec un Autorail entre Bizerte et Menzel Bourguiba. Peut après Tinja la linge longe la baie de Bizerte et elle arrive à Bizerte, non loin du Cap Blanc le point plus au nord du continent africain
Die Linie
Auf den ersten 25 km verläuft die Linie auf jener nach Ghardimaou. In jedeïda zweigt die Streck nach Bizerte in Richtung Norden ab und bedient die Stationen Chaouat, Sidi Othman und Aïn Ghelal und erreicht den Bahnhof Mateur. Von hier aus führen die Strecken nach tamera und Tabarka, sowie nach Béjà. Diese Zweiglinien sind zur Zeit nur im Güterverkehr bedient, wobei besonders der Verkehr zu den Eisenminen bei Tamera und Sejnane von bedeutung ist. Kurz nach Mateur verläuft die Strecke am Ichkeul See entlang. Dies ist der grösste Süsswassersee Tunesiens und er sit auch Nationalpark, er wird von vielen Vogelarten belebt. Zwsichen dem Ichkeul See und der Bucht von Bizerte wird Tinja erreicht. Von hier zweigt über ein Geleisedreieck die Nebenbahn nach Menzel Bourguiba ab. Heute fahren nur noch Güterzüge nach Menzel Bourguiba, doch in den Jahren 1983 bis 1985 führte die SNCFT versuchsweise einen Vorortsverkehr Bizerte - Menzel Bourguiba mit einem Triebwagen durch.Kurz nach Tinja verläuft die Strecke entlang der Bucht von Bizerte, um bald in der gleichnamigen Stadt anzukommen, nicht weit des nördlichsten Punktes des afrikanischen Kontinentes, dem Cap Blanc, dem weissen Kap.
The Line
For the first 25 km the line follows this one to Ghardimaou. At Jedeïda station it turns North and reaches the stations of Chaouat, Sidi Othman and Aïn Ghelal before reaching the important Junction of Mateur. From here branches goes off to Tamera and Tabarka and Béjà, all now used for freight traffic only. Especially iron ore from Tamera and Sejnane mines are important goods. Soon after Mateur the line follows Lake Ichkeul, the biggest sweet water lake of Tunisia. It is preserved today as a national park and is inhabited by many kinds of birds. Between Lake Ichkeul and the Bay of Bizerte you reach Tinja station. From here a branch goes East over a wye to Menzel Bourguiba. Today served by freight trains only, SNCFT has run a test suburban service with a diesel-railcar between Bizerte and Menzel Bourguiba during the 1983 to 1985 period. Aftre Tinja the line follows the Bay of Bizerte and reaches the namesake station, not far from the Northernmost point of the African continent, the Cap Blanc (White Cape).

Informations sur la marche des trains de cette ligne Informations sur la Carte Bleue Retour à l'entrée
Fahrpläne dieser Linie Informationen zur Carte Bleue Zurück zum Eingang
Timetables for this line Information about Carte Bleue Railpasses Back to entry